Tooth White Spot Removal in Glen Cove, NY
Gold Coast smiles provides tooth white spot removal to patients in Glen Cove, NY. Contact us at 516-676-0250 to learn more or schedule an appointment.
Have white spots on your teeth made you self conscious about your smile?  Maybe you've had them for years, or perhaps you noticed them after just completing an orthodontic (braces) treatment.  At Gold Coast Smiles of Long Island, Dr. Andrew Sami proudly offers ICON white spot removal to help patients improve the appearance of their teeth in a conservative fashion.
Icon white spot removal is a revolutionary breakthrough approach to the cosmetic treatment of white spot lesions.  White spots and other discoloration often appear on teeth due to fluorosis, poor oral hygiene, demineralization of the enamel layer, trauma or following the treatment of braces (orthodontics). ICON white spot removal works to fill and reinforce demineralized tooth enamel without any destructive drilling or painful shots.  With one simple procedure and without unnecessary loss of healthy tooth structure, we can minimize the appearance of white spots on your teeth in just one appointment!
---
Benefits of ICON white spot removal include:
---
Minimally invasive treatment

Stops the progression of tooth decay and similar problems

Allows us to treat cavities that are not yet advanced enough to receive a filling

Completely painless!

No drilling or anesthesia needed

Helps preserve your natural tooth structure

Extends the "life expectancy" of your tooth

Treated teeth look just like your original, healthy teeth
All before/after photos pictured here are actual cases of Dr. Sami's.
---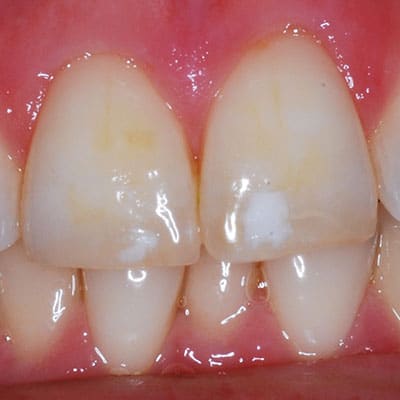 ---
---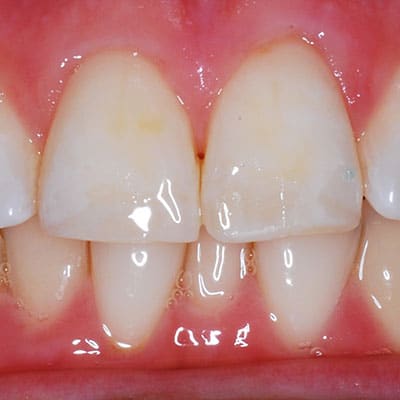 ---
---
White Spot Removal FAQ
---
How does ICON work?

ICON is a white spot removal treatment which doesn't involve any drilling or removal of any part of the tooth.

The treatment works by infiltrating the pores of the tooth where the white spot is located via a tooth-colored resin. A special gel is applied to the white spot to open up the pores, and enables a deep penetration of the resin. The resin is then light-cured, while the white spot infiltrated by the resin takes on the appearance of the surrounding healthy enamel. The resin also blocks acids that can make enamel wear away, and it can help preserve the tooth from additional decay. This results in a beautiful, healthy and aesthetically pleasing all over white smile.

The beauty of Icon White Spot Treatment lies in its minimally invasive technique.  There are no drills, it is completely painless so no needles are necessary and the natural makeup of your tooth is preserved.  The entire process is also very quick, usually lasting less than an hour.

Will tooth whitening help?

Many people mistake the white spots or mottled appearance of their teeth for staining and think they can be improved by teeth whitening.  Unfortunately, whitening has little effect on the white spots and they remain a lighter shade of white compared to the rest of the tooth.  In fact, whitening can make matters worse since the bleaching process will result in any white spots present to stand out more so than before.

How long will treatment last?

While results are typically long lasting, ICON treatment is not considered permanent, and future treatments may be needed. For most patients, results last on average 2-3 years. However, the majority of patients who have had ICON treatment administered at Gold Coast Smiles have continued to enjoy their initial results without needing any further treatment for several years now; In many cases 5 or more years.  The amount of time that Icon treatment will last for you depends on many different factors, including oral hygiene and diet. Foods high in acids tend to break down the enamel quicker than other types of foods, so avoiding fruit juices and acidic foods can help to prevent the white spot lesions from returning.

Is ICON for me?

If you're struggling with white spots on your teeth, and have been unsure of how to fix them, then ICON may be the answer for you.  Its quick, non-invasive, delivers instant results and also helps repair the weakened portion of your tooth, in addition to enhancing its cosmetic appearance.
To learn more about ICON white spot removal and schedule an appointment for a consultation, call Gold Smiles of Long Island today.
---
Request Appointment
---
---
---
Call our office at 516-676-0250 or use the button below to request your appointment.
---