Relationship Based Dentistry
Relationship Based Dentistry
People have always hated going to the dentist, our vision and goal has always been to change that. Going to the dentist doesn't have to be a negative experience. The entire team at Gold Coast Smiles is dedicated to providing a different kind of dental experience.
From the moment you call us to schedule an appointment, to your visit with Dr. Andrew Sami, you will experience the professionalism, integrity and quality of our dental team. Everyone here at Gold Coast Smiles puts you and your needs first: The atmosphere is always warm, positive and professional; Dr. Sami and his team are highly accomplished and technologically advanced. Best of all, our unique, relationship-based dentistry keeps patients happy, relaxed and healthy.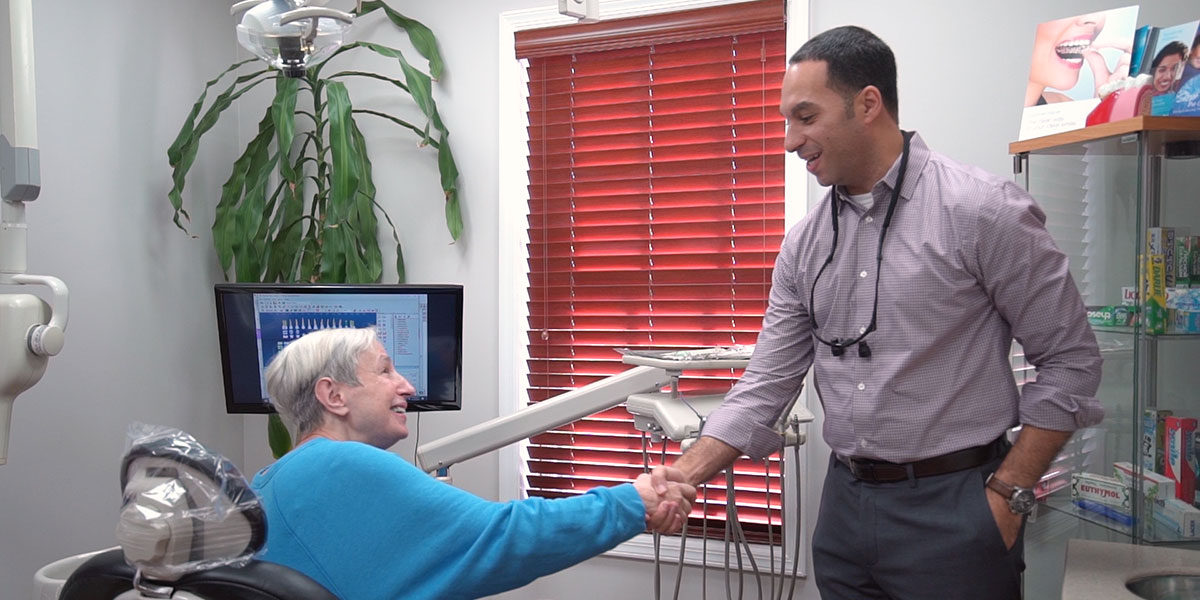 ---
As a patient, you become an essential part of our extended family. We make you an active participant of your own dental team, so you are always informed and educated.  But more importantly, you will also have a voice in deciding how to best approach your care. Instead of lecturing you on how healthy you should be, we work with you regarding your choices about your dental health. This individualized approach in a relationship-based setting helps you make informed decisions regarding your own dental as well as overall health.
We never pressure you or make you feel inadequate about the decision you make. At the same time, we strive to keep you in touch and aware of your over-all health needs. Our interest in you is all encompassing – we care about your smile, your health and your life.
A Dedication to Dental Excellence

We are committed to providing the highest level of dental care to our patients.  In our modern, state-of-the-art practice, friendly team members are committed to providing exceptional dentistry in a comfortable environment.  We believe that having a healthy, beautiful smile should be more than just a dream.  It's our goal to make it a reality.  The team at Gold Coast Smiles are dedicated to re-establishing, improving and supporting your oral healthcare needs using established and sound treatment principles under the highest standards of care.

Personalized Approach

Our goal is to help you reach the highest level of oral healthcare and overall well being based on your individual needs and specific goals.  Because we are so passionate about achieving these goals, we always take our time, patiently listen and will always make sure you are comfortable.  This means that each of Dr. Sami's patients receives his individual undivided attention and nothing but the very best care. At Gold Coast Smiles, patients never feel as though they are being rushed, which makes them feel comfortable asking questions and allows them to participate more fully in their dentistry experience. We find that this not only enhances the level of care, but it also helps our patients to feel much more at ease during their visits.
Uncompromising Safety

Infection control, sterilization and cleanliness in our office is of the outmost importance to us. To protect our patients and ourselves, we strictly maintain sterilization and cross contamination processes using only the highest hospital grade standards recommended by the American Dental Association (ADA), the Occupational Safety and Health Administration (OSHA), and the Centers for Disease Control (CDC).

Proactive Prevention

Our clinical team strives to be proactive rather than reactive in their approach to your care and treatment.  We look for early signs of problems so we can proactively address them before they become bigger more complex problems, and a bigger expense for you. In addition to the many cosmetic, implant & restorative dentistry treatments available at our office, Gold Coast Smiles offers a full array of general and preventive dental care options.  These preventive treatments can effectively treat tooth decay, prevent severe gum disease and much more. Because we believe dental care and maintenance is vital to your dental and overall health, our extensive regularly scheduled oral health assessments will ensure regular maintenance of your teeth and gums.
Education & Communication

Education is a cornerstone of our practice.  Our advice will always be based on your best interests. Our training and technology exist to fulfill the decisions you make regarding what is best for you and your family. To help in your decision-making, we will openly and candidly discuss with you what you can expect from our recommended treatment plan — what's involved, anticipated results, cost and alternatives. We encourage you to ask questions so you can decide confidently how to proceed.

Outstanding Customer Service

We value our patients highly, and treat you with the utmost respect and care. From your first contact with our office, we work to satisfy or exceed each person's expectations (even before they become patients).  We have designed our practice to make you comfortable, respect your time and privacy, assist in your financial and insurance issues, and deliver outstanding quality of services. We are here for you. Should a dental emergency occur, we make every effort to see and care for you as soon as possible.
Ensuring a Warm, Caring, Friendly & Safe Environment

We will accommodate any patient who is fearful or anxious about dental treatment and work to make each visit comfortable and even enjoyable. We listen to your concerns and support each patient in overcoming their fear, while letting them maintain control. We make it easy for all our patients to come to our office by building relationships and trust beyond the expected. The design of our office is welcoming and warm.  Our team is personable, friendly and understanding. We have created an environment that naturally reflects the style and quality of care we provide.
Unsurpassed Quality of Standards

In order to achieve the best aesthetic and functional results, our doctors maintain vigilant standards. We are highly attuned to the latest technologies, products and procedures and apply everything we've mastered meticulously. Good is simply not good enough when it comes to our patients. 
Innovative Technology

In an effort to provide our patients with the most current and revolutionary treatment modalities available, we will continuously invest in and equip our office with latest innovative technology in an ongoing effort to enhance your clinical care and overall comfort.  Our continuous investment in modern technology allows us to provide you with oral healthcare that is more precise and accurate in nature, promotes higher levels of safety and comfort, is more efficient and less time consuming and is more cost effective over the long term.

At Gold Coast Smiles, we strive to combine the best when it comes to care, service, and technology in one convenient location to offer you a dental experience unlike any other. Our experienced team have each spent years refining and perfecting their craft in order to provide the highest-quality care possible for our friends and neighbors.  Our vision has always been to provide exceptional customer service while establishing a long lasting relationship with each and every patient. We feel very privileged to welcome you to our ever growing family of patients, and we look forward to helping you achieve your oral healthcare goals.
Our philosophy allows us to offer high-quality aesthetic dentistry in a caring, pampering & customer service oriented environment. Schedule your appointment today to experience unsurpassed dentistry.
---
Request Appointment
---
---
---
Call our office at 516-676-0250 or use the button below to request your appointment.
---