At Gold Coast Smiles, we've seen thousands of patients through the years and understand what factors are important when choosing the right dentist for you. From the quality of the equipment to the doctor's credentials down to the smallest details of the office environment, it all plays a role in finding a dental practice you can trust. Here are the top reasons why we are confident choosing Gold Coast Smiles for you and your family's dental care is the right choice for you. 
---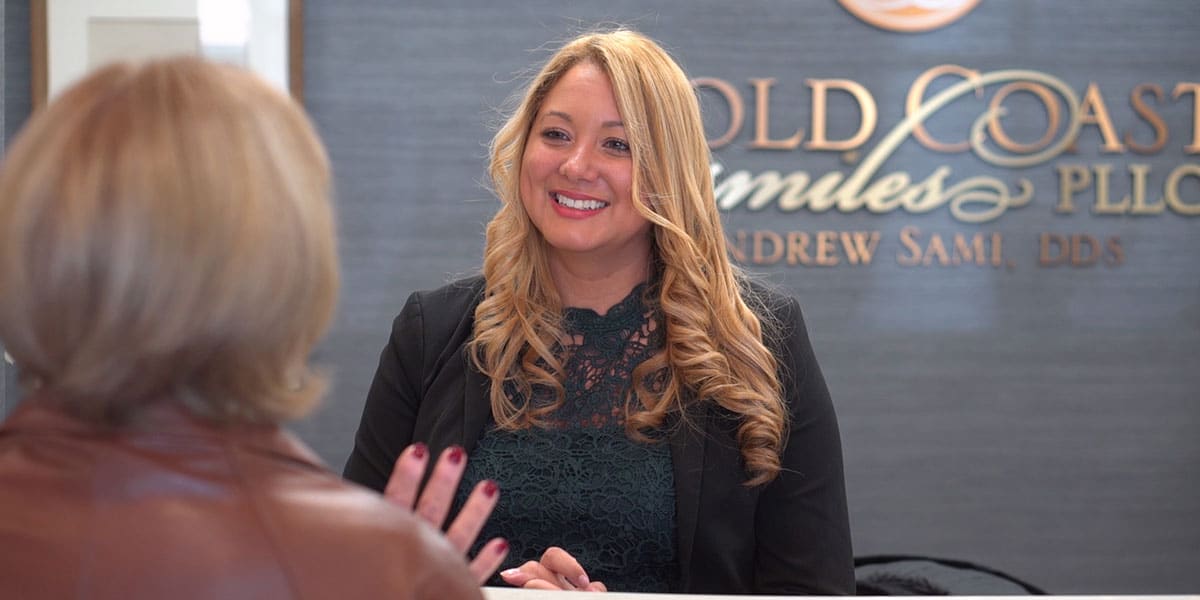 ---
Comprehensive Dentistry with a Whole Body Approach
---
At Gold Coast Smiles we take a comprehensive approach to dentistry, maintaining a healthy body from the foundation of a healthy mouth; a true focus on total health.  Our mouths can be a gateway for illness, affecting the wellness of our entire body. Dental bacteria has been shown to play a contributing role in many serious health conditions, including heart disease, diabetes, and even Alzheimer's.  It's because of this direct link between the wellness of the mouth and the health of the entire body that high-quality dental care is so crucial. Healthy gums lower our risk for developing diabetes and certain cancers, while gum therapy improves blood vessel health and helps prevent heart attack and stroke. This is because the same plaque that builds up on our teeth can build up in our arteries and heart, creating blockages.
Instead of just focusing on one damaged tooth or area in question, Dr. Sami focuses on the unique human being behind the smile.  Our comprehensive approach to your dentistry will focus on combining what we consider the 4 essential elements to your oral & overall well being:
Cosmetics: a uniquely-you smile that complements and highlights your unique facial features. 
Function:  strong and well-aligned oral structures that promote healthy and comfortable chewing and speech.
Biology: a healthy mouth and smile that fulfills its role alongside your cardiovascular & digestive systems.
Durability.  a beautiful well functioning smile that can last the test of time alongside proper hygiene and regularly scheduled maintenance checkups/cleanings.
It's true, accidents and natural decay happen, but at Gold Coast Smiles we will do more than just patch up a tooth, bill you, and send you on your way. When dental restorations are needed for whatever reason, we will make sure your smile is as gorgeous, healthy, functional, and beautiful as can be.
Relationship Based Dental Practice
---
When was the last time you were able to contact your dentist directly on his cell phone?  If you're not visiting Gold Coast Smiles, we're willing to bet it wasn't recently.  When choosing a dentist, you want someone you can reach in an emergency; a team that's available and accommodating when you have follow-up questions, even when it's after 5:00 or on a weekend. The team at Gold Coast Smiles offers unmatched accessibility, and not just when we're on the clock. It's what sets us apart from the rest.
We pride ourselves as being a patient-focused and relationship-based practice, meaning that everything we do is based on really getting to know you, what you value, what you want for an end result, and how you want to get there. You are in control of your treatments because, after all, it's your health and your body. It should always be your choice and your decision. What we are here for is to give you the knowledge, support, and options that will help you make good choices for yourself. We are invested in your good health and wellness.  
What we have created at Gold Coast Smiles is our own approach to how we would like to see healthcare accomplished in this day and age. You are never just a "mouth" or an impersonal treatment to be done. We love having a relationship with each of our patients, knowing them as people first and patients second. When you visit our office, you will find that to we allow more time for your appointments so that your experience here will never feel like an assembly line.
As a patient, you become an essential part of our family. We make you part of your own dental team, so you are always informed and educated.  
Not Corporately Owned
---
More and more dental practices are being bought up by corporate entities and venture capitalists.  Our office is independently operated and does not answer to a higher corporate entity that emphasizes bottom line profits over quality of care.  You will not be exposed to a revolving door of inexperienced dentists, inconsistent care and impersonal treatment, nor will you be presented with treatment recommendations that seem overinflated and unwarranted.  
Instead you will find that we prioritize customer service and exceptional individualized care where high standards and ethics come before profit and loss statements.  When you're a patient at Gold Coast Smiles, the decision on how you move forward with the type of treatment you need will only be dictated by you and Dr. Sami, no other outside influencing sources.   Our bottom line is  providing personalized care and building lasting relationships based on trust and respect, so we can look forward to treating multiple generations of your family.  
---
Customer Satisfaction Guarantee
---
Patient satisfaction is one of our main goals as it pertains to your care. We understand that everyone makes mistakes. We admit that sometimes, things don't go according to plan with us too. But rest assured that if something goes wrong, we're going to do everything in our power to make it right, no questions asked.   At Gold Coast Smiles, we put our money where our mouth is and we stand by our work.  If you are not satisfied with any treatment we recently completed on you, just let us know and we will do whatever is required to fix the situation and make things right, even if it means replacement at no cost to you.  
Reputable.  Credible.  Highly Rated & Reviewed
---
What's the first thing you do when you're thinking of using a business? You Google them. Your dentist should be no different. In fact, we encourage you to look over our dental practice reviews from our satisfied patients. Online dentist reviews are honest and straightforward–a great way to get an unfiltered look at what other patients really think. You'll find Gold Coast Smiles & Dr. Andrew Sami has hundreds of independent Google reviews, with additional reviews on Yelp, Healthgrades, BirdEye and Facebook, just to name a few.
All of our reviews are authentic from actual patients of our practice.  But don't take our word from it, here are actual video testimonials of what our patients have been saying about our dental practice for years.  
---
State Of The Art Technology
---
When it comes to your health & well being you shouldn't take shortcuts. Don't settle for a practice that uses outdated equipment and decades-old technology. After all, if there's a serious problem, it may go undetected or the treatment may not succeed. We believe in investing into our practice in order to provide our patients with the most advanced dental technology & materials on the market.  
Our technology includes:
Cone Beam Computed Tomography (3D X-ray/CT Scan)

CEREC & CAD/CAM technology (same day dentistry)

Digital X-rays

Intra-Oral Cameras

Velscope Oral Cancer Screening
Little To No Waiting Time
---
Your time is important and we understand that.  But in this day and age when it comes to the healthcare industry, sticking to a schedule seems to go out the window.  Unfortunately many of us have grown so accustomed to waiting endlessly in the doctor's office that we take this as the norm.  We don't think it should be that way, however.  Instead, we believe when you have an appointment with us, the team should be ready and anticipating your arrival, not the other way around.  Most of our patients are accustomed to finding the waiting room at Gold CoastSmiles is usually empty, and for good reason.  We make it our business to see patients within minutes of their arrival at our office and schedule the proper time needed to see patients so we don't run over.  In the rare cases we are behind, we do acknowledge and consider ourselves late and do everything we can to get back on schedule.  Time is important, and rest assured we won't waste yours.  
---
Open and Transparent Sterilization & Safety Protocols with High Standards
---
When choosing a dentist, you want the peace of mind that comes with knowing the equipment used will be clean and safe.  Unlike many other offices, none of our sterilization or infection control procedures happen behind closed doors and we don't leave anything up to the imagination.  At Gold Coast Smiles, our sterilization area is a focal point of our office, positioned in a central and open space that is easily visible to anyone passing by the treatment rooms.  We are happy to demonstrate our stringent cleanliness practices and sterilization techniques or answer any questions you may have.  
Furthermore, since the inception of our office, we have been consistently utilizing only the highest sterilization and infection control standards and practice.  Our office is equipped with modern up to date hospital grade autoclaves that we use to sterilize all equipment as well as medical grade HEPA air filtration systems that we use in every treatment room to help filter out and eliminate potentially harmful airborne particles including microbes such as viruses.  Patients always comment on how clean and safe our office is, and we are confident once you come in to our office, you will too.  
Visit our sterilization and infection control page to get a more detailed understanding of what we do to keep our patients safe and healthy.  
---
Comfort & Entertainment 
---
While we know that It's certainly no secret that many people just don't like going to the dentist, we want you to rest assured knowing that when you come into our office, you can expect a relaxing and welcoming environment that places its emphasis on patient comfort.  Our office is filled with amenities to help take your mind off the dentistry and give you a more enjoyable and comfortable experience:
HD TV's and music with headsets in every treatment room

Beverage station serving hot and cold drinks including herbal teas & Keurig machine

Pillows and blankets available for our patients

Cell phone & Tablet docking/charging stations

Nitrous Oxide at no charge

State of the art ergonomic dental chairs that provide proper and comfortable muscular support during treatment.
Authentic Before & After Photos
---
Ever wonder why some dental offices don't display any before and after photos?  Or why the photos that are displayed seem staged and not quite, real?  Oftentimes, the photos displayed on a dental practices website can actually be stock photos produced by a professional imaging company and not actual patients.  This is not the case with Gold Coast Smiles, we pride ourselves in our authenticity and integrity.  Each and every one of our clinical photos seen on our website is one of our actual patients displaying the work that was achieved here at Gold Coast Smiles.  When it comes to high quality dental work, an experienced clinician with a long track record and countless satisfied patients, you can rest assured our office is legitimate and credible and we'll be glad to show you legitimate examples of our expert work.
---
We Employ The Golden Rule
---
You want to choose a dental office that truly cares and understands the big picture.  A team that is accessible and will be responsive to you and your concerns.  The entire team at Gold Coast Smiles lives the golden rule every day. We treat patients exactly as we'd treat our own family member and how we'd hope to be treated if the roles were reversed and we were the ones sitting in the dental chair. We do it because we care!
---
Request Appointment
---
---
---
Call our office at 516-676-0250 or use the button below to request your appointment.
---