Implant Supported Dentures
Implant Supported Dentures
Implant Supported Dentures, A Solution That Works
---
If you've ever worn dentures, you may already know about their drawbacks and the problems associated with them.  Although dentures can have clear advantages when all of your teeth are missing, many people don't know that dentures are not the ideal solution when it comes to replacing missing teeth.  If you want to consider an option that makes your dentures more secure, but is not as costly as replacing each individual tooth with a single implant, an implant-supported denture can be an excellent choice.
Let's first take a look at some of the inherit problems that traditional dentures present us and at how implant supported dentures—also called implant-overdentures—can offer a better experience.
---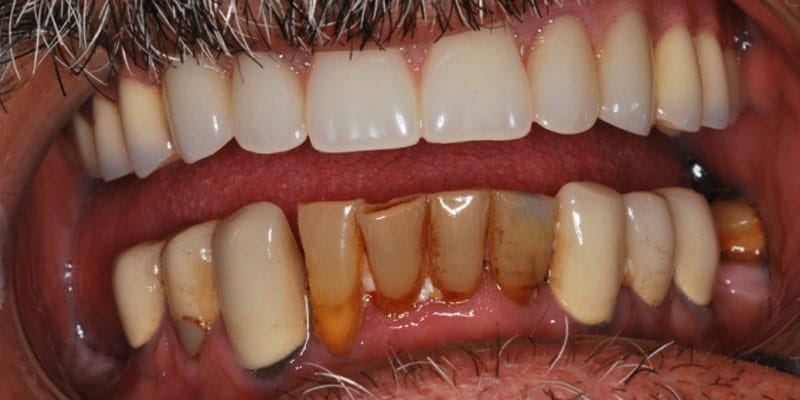 Before Implant Supported Dentures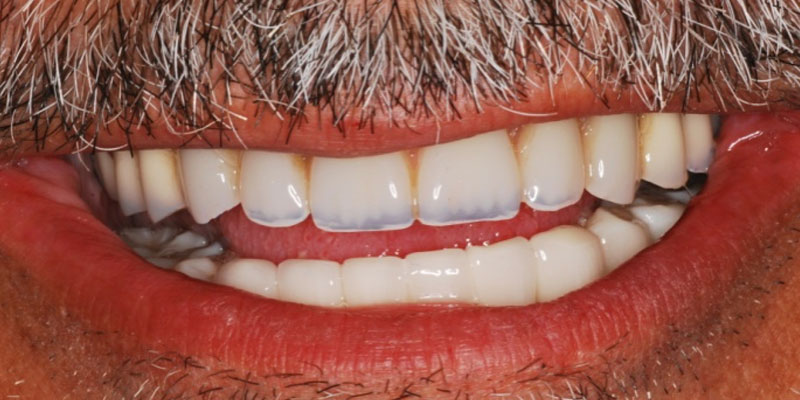 After Implant Supported Dentures
All before/after photos pictured here are actual cases of Dr. Sami's.
Why Many People Hate Their Removable Dentures
---
Regular dentures rest on the gums and rely on your tissue and bone for support.  Gums are soft tissue and have the ability to move in various degrees depending on the individual and the amount of bone loss present.  Because of this soft tissue mobility, the biggest patient complaint with removable dentures is the loss of that solid feeling that comes with having teeth anchored in solid bone.
Lower full dentures tend to present with the most problems for patients by far.  They are only held in place with the help of gravity, and the help of your tongue and cheek muscles resting against it.  They are notorious for having a tendency to tip forward when chewing, slip and even fall out at embarrassing moments, much more so than upper full dentures.  This is why an overwhelming majority of lower denture wearers must use denture adhesive/paste to secure the denture in place.
Upper dentures move also but they have the benefit of creating a suction-based seal with the roof of your mouth resulting in more stability as compared to a lower full denture.  However they come with shortcomings as well since they can reduce the enjoyment you get out of food.  The roof of our mouths are covered with taste buds.   Since upper full dentures cover the entire roof of the mouth, patients complain they don't feel or taste their food as good as prior to having the denture.  Full upper dentures can also interfere with speech in some people since the tongue interacts with it more often when making certain sounds and forming specific words.
A common problem that faces anyone with either upper or lower full dentures  is long term bone loss.  In the presence of natural teeth, the roots of the teeth send a signal to your jawbone that helps preserve it.  Dental implants replace the roots of these missing teeth and can also generate that same signal to the jawbone and allow it to be preserved.   If there are no roots or implants present in the bone, your body senses that the bone is no longer needed to support anything and begins to resorb the minerals in the bone for use elsewhere in the body.  This resorption continues unchecked for years, creating further loss of jawbone volume and resulting in even less support for the dentures to sit on.  Eventually this natural biological phenomenon makes it very difficult if not impossible to support dentures.  Once this happens, many people are relegated to eating only soft foods.  Other possible health consequences can also develop including TMJ and other digestive issues.  
---
Why Implant Supported Overdentures Work Better
---
Dental Implants are the ideal solution to missing teeth precisely because they replace the tooth root along with the visible part, or crown.  You can learn more about dental implants and the dental implant process on our dental implant page
Ideally, for the vast majority of people missing teeth, treatment would involve replacing each tooth with an implant or replace every two or three teeth with an implant and putting bridges between them.  This can obviously be quite expensive and we realize not everyone can commit to this type of financial investment.  For current denture wearers who cannot commit to a more permanent solution involving multiple implants, they have the option to upgrade their dentures by choosing to support their dentures with as minimal as two implants.  This will solve all of the problems discussed above since even only two implants on the lower jaw can substantially improve overall conditions.
An implant-retained denture, however, has special attachments that snap onto dental implants that have been strategically placed in the bone for support. These attachments can provide a range of tightness depending on your comfort level but will still allow the denture to be easily removed when necessary. There are several designs available. The number of implants necessary can vary for every patient but is often as minimal as only two implants for the lower jaw and four for the upper jaw. While most patients usually only require implants on the lower jaw because of the inherent lack of support for a denture there, both the upper and lower areas of the mouth can greatly benefit from implant-retained dentures.
Advantages of Implant Supported Overdentures:
---
Implant-supported dentures are designed to be long lasting, easy to maintain and secure. You can laugh, speak and eat without worrying about them shifting in your mouth or slipping.

The bone around your missing teeth is better preserved since the implants replicate the natural root of the tooth and stimulate its preservation.  Less maintenance is required.

With implants anchoring upper dentures, it is not necessary to fully cover the roof of your mouth. You'll have a better appreciation for the texture, temperature and taste of food.

No need for denture adhesives to help hold the denture in place.

Eat better! Implant-supported dentures can triple the force of your bite. By restoring chewing ability comparable to that of natural teeth, implant dentures allow you to enjoy foods like apples, steak and corn.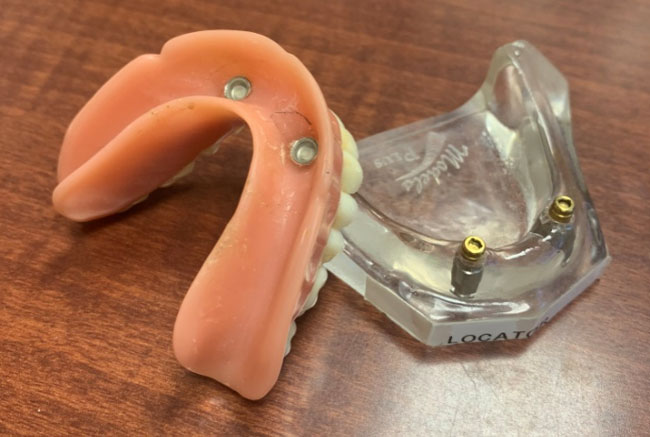 Dr. Andrew Sami has been creating natural looking and well supported implant over dentures for several years and will discuss the best options for you based on your specific needs and situation. If you already have a set of dentures that you'd like to improve, he can present you with the right options to upgrade them with implants.  With implant supported dentures, Dr. Sami can help improve your self esteem and help you regain nearly all the abilities you had with your natural teeth. You will feel confident and enjoy life more fully, giving you the ultimate peace of mind when you smile.
---
Back to Our Services
---
Request Appointment
---
---
---
Call our office at 516-676-0250 or use the button below to request your appointment.
---