CEREC Same Day Crowns
in Glen Cove, NY
CEREC Same Day Crowns in Glen Cove, NY
Gold Coast smiles provides same-day dental crowns to patients in Glen Cove, NY. Contact us at 516-676-0250 to learn more or schedule an appointment.
The field of restorative dentistry has greatly improved thanks to modern, state-of-the-art technology. At Gold Coast Smiles, we use CEREC technology to craft and customize crowns for patients in need of dental restorations within one single appointment. With CEREC, patients can receive the same high quality crown without the need to take impressions or go home with temporaries.
---
What is CEREC?
---
Chairside: The technology is in the dental operatory and used while you are in the chair
Economical: The procedure is economical for both dentist and patient
Restorations: The procedure restores your tooth to its natural beauty, function, and strength
Esthetic The restorations are metal-free and tooth-colored
Ceramic: High-strength ceramics are used that are close in composition to your natural tooth structure.
---
Traditional Crowns vs. CEREC Same Day Crowns:
---
Traditional crowns require the dentist to prepare the tooth for a crown, take an impression that is often uncomfortable particularly for those with an active gag reflex, and place a temporary crown in the first appointment. Patients have to live with an uncomfortable temporary for days or weeks while an outside laboratory crafts the permanent crown. Another appointment is then needed to remove the temporary and place the finished crown. In the meantime, the temporary crown can be irritating to wear and may come off prematurely creating possible inconveniences for the patient.  
CEREC is an exciting dental technology that allows dentists to create porcelain restorations in one office visit. It allows our team to take 3D digital images of your teeth and gums with a high-quality intra-oral video scanning system. Using specialized software and a medical-grade computer, we then use these images to create a virtual model of your teeth. This allows us to custom design your new tooth chair-side while you watch. This information is then processed through a milling machine which mills a custom color matched crown out of a block of porcelain in just minutes.
With CEREC, the need to send anything out to the lab is eliminated. Dr. Sami can often place your restoration in just one single visit giving you same-day results that are proven to last.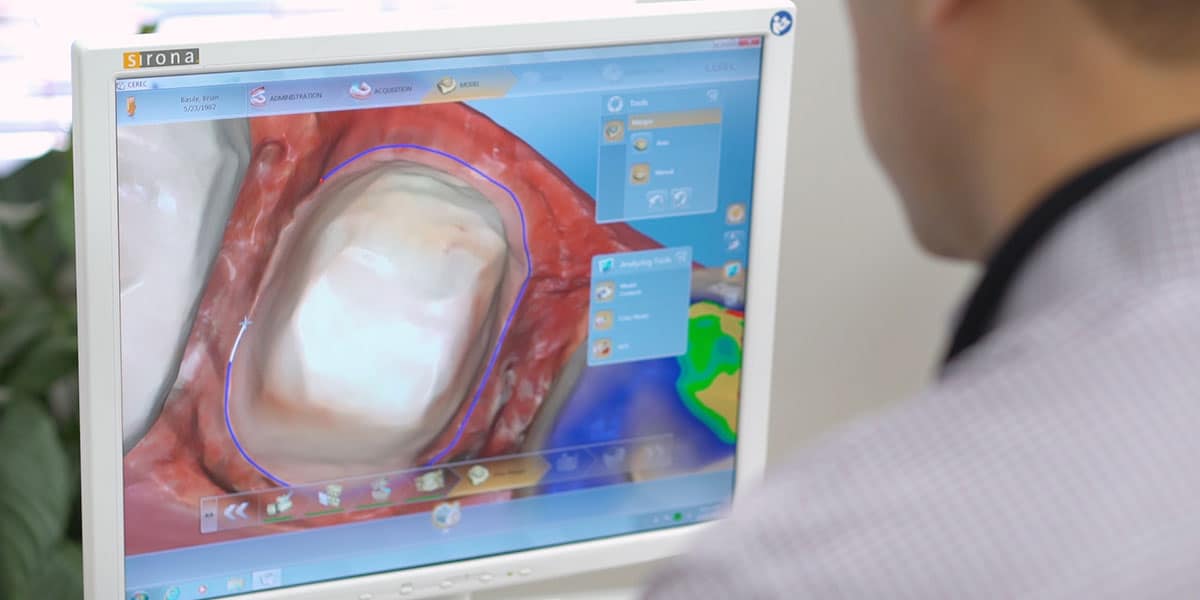 ---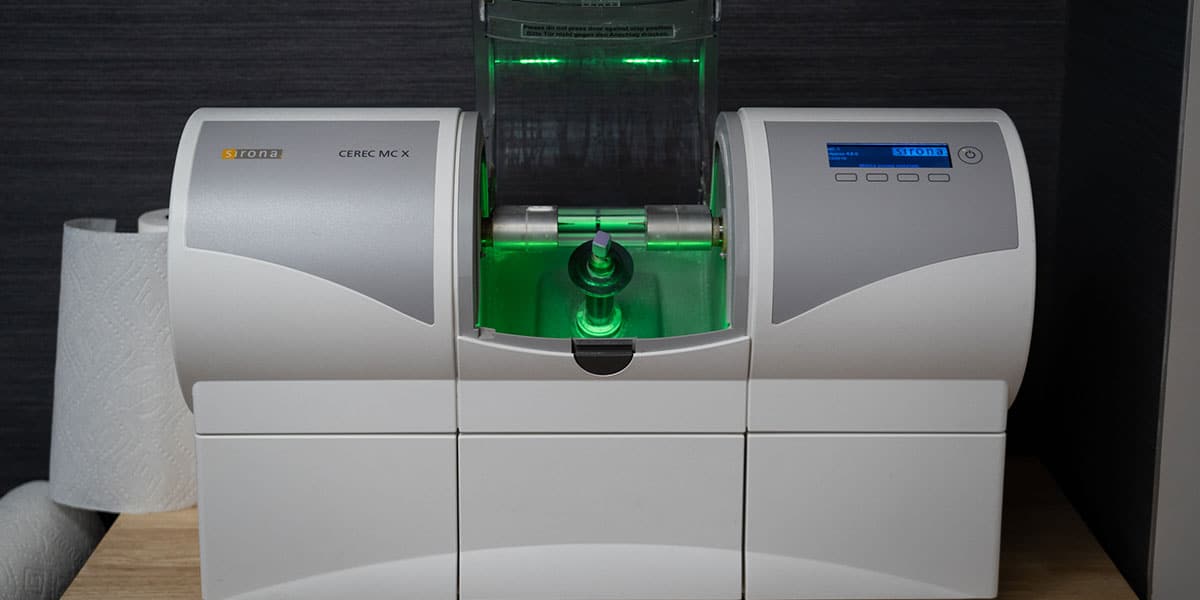 ---
Benefits of CEREC Same Day Crowns:
---
Convenience & Efficiency: We realize many patients can have very busy schedules and responsibilities that often make securing a dental appointment difficult.  CEREC crowns speed up the treatment timeline by eliminating the need for a second appointment to place the permanent crown. There is no need for multiple injections and we can cut out the disruption involved with multiple trips to the dentist.
No More Impressions, No More Gagging: If you have a particularly sensitive gag reflex like many people do, you will be happy to know that this means you are not required to put those trays filled with impression material in your mouth.  With this state-of-the-art technology, digital imaging is used to create your crown. We are able to eliminate the need to take a patient's impression with what is often uncomfortable & messy material that is required to be sent to an outside lab and then wait for weeks for the crown to be delivered back to our office.
No More Temporary Crowns: Once Dr. Sami digitally designs your crown, A milling unit creates your new permanent ceramic crown right in the office as you wait.  There is no need to put up with temporary crowns, worrying if the temporary crown may fall out or any of the other inconveniences that come with temporary crowns.
Naturally Appearing Beauty: Another reason to love CEREC same day crowns is that it is a metal free restoration.  By investing in only the latest and most proven high end materials such as E.max porcelain to make our CEREC restorations, we are able to customize and create a more beautiful and lifelike crown that accurately mimics the natural appearance and beauty of your teeth without compromising strength.
Precision fit & Accuracy: With a lab made crown, there's always an inherent risk for the off-site designed restoration to not fit properly. This can be due to human error at the lab or chemical changes in materials that cause them to reshape or warp between a dentist's office and the lab. CEREC eliminates all of these potential downfalls because the CAD/CAM digital scanning & milling technology is so precise and the possibility of human error is eliminated since no outside lab is involved in the process.  In the majority of cases, we find that the crown fits so well that there is no need for any adjustments in the mouth as is typical with lab made crowns.  
As you can see, there are many benefits to using the CEREC system. CEREC is an advanced dental restorative system that allows your dentist to restore decayed teeth, place crowns, remove defective amalgam (silver) fillings or replace unsightly old crowns in just one appointment. This allows you to have the highest quality, most lifelike dental restorations in just one visit. If need to have damaged teeth repaired or your smile upgraded, contact our office today to schedule your visit. Our experienced dental team will be happy to explore whether CEREC crowns are a good fit for you and answer any questions you may have about CEREC or any questions about your family's dental health.
*Not suited for all cases – Like all dental procedures, CEREC crowns are not suited for all situations. Depending on the circumstances and location of the tooth to be restored, other procedures may be more appropriate.
CEREC Same Day Crowns FAQ
---
Is the material used to fabricate CEREC same day crowns the same as the material used to fabricate restorations in good labs?

Yes, we purchase and use the exact same materials the higher end labs use directly from the same manufacturers. The material of choice we use often is Ivoclar's E.max. The porcelain is strong, has a natural beauty to itself, accurate, has exceptional bonding strength and is biologically healthy. There are dozens of other different materials we sometimes use in addition to E.max depending on the circumstances of each case. We do not take a cookie cutter approach and instead make our decision making on a case by case basis.

Do you use CEREC same day crowns for every possible restoration?

No. While we do utilize CEREC technology quite often due to it's many benefits, not every case is suitable for CEREC or same day crowns. CEREC is only a single tool we have in our toolbox filled with other options. There is still a place for master craftsmen and artisans. We always evaluate and appropriately diagnose each case on an individual tooth by tooth basis taking into account your bite, the remaining condition of the tooth in question and several esthetic considerations.

When it comes to more advanced cosmetic cases on anterior teeth, a full mouth rehabilitation, or any more complex treatment involving several teeth simultaneously, we always involve a dental lab where the case can first be prepared in wax before any work is started and then studied closely to evaluate and design all of the characteristics required for an optimal outcome between the dentist and the lab technician. We then work with this same lab technician to further customize and finish the case while the patient is relaxing into their new bite and cosmetics while wearing custom interim restorations (i.e. Temporary restorations).

How long is a typical same day crown appointment with CEREC?

In addition to several other benefits, one of the most common reasons that patients and dentists opt for CEREC same day crowns is to save time. Conventional crowns utilizing a lab require multiple appointments usually within the time frame of 2-4 weeks. We find that this time commitment can be difficult for some of our more busier patients.

Conversely, CEREC crowns are finished in a single appointment that generally only runs moderately longer than the average dental cleaning and exam we provide our patients. Most CEREC appointments last between one and a half to two hours in length.

However, the appointment times includes about 45 minutes of free time for the patient while the crown is being fabricated. Patients are free to watch TV in the comfort of their own treatment room, use personal electronic devices, read or even take a quick nap during this period.

How long do CEREC same day crowns last?

Because CEREC crowns are quicker than traditional crowns, some patients worry that CEREC crowns won't last as long or won't be as durable as their conventional counterparts. However, I tend to point out to patients quite often that the CEREC milling process used in our office to make our same day crowns is the exact same milling process used by outside labs when fabricating ceramic crowns. We are both utilizing the same CAD/CAM technology in fabricating our crowns and in many instances using the same materials (at least when compared to higher end labs).

CEREC produces the same high-quality ceramic restorations that one can find from an established high-end laboratory. With good oral hygiene and proper dental maintenance, CEREC crowns have been proven to last between 10 and 15 years just like a traditional lab made crowns and possibly longer.

Are CEREC crowns durable?

For more than a decade, CEREC has been the industry leader in creating same day crowns and dental restorations. Studies have now shown that in the hands of an experienced CEREC practitioner like Dr. Andrew Sami, CEREC restorations are extremely reliable and durable. Additionally, because CEREC crowns tend to fit more precisely than conventional lab fabricated crowns, these same day crowns typically require minimal if any refitting and adjusting in the mouth. The reduced adjustments and fitting of CEREC crowns can translate to even more durability for some patients.

Do you charge more for CEREC same day crowns than traditional crowns?

No. Although the investment in bringing CEREC and CAD/CAM technology to our office is a significant one, we believe we are providing a quality service to our patients and don't want finances to interfere in our clinical decision making. Our fees for CEREC crowns and traditional crowns are exactly the same and all decision making rests on which restoration will best address and suite your needs instead of cost.

Who will design my CEREC crown? Will I be able to watch the process?

Dr. Andrew Sami has created several thousand CEREC restorations over the past several years at his Gold Coast Smiles office in Glen Cove. He personally handles and oversees every step and aspect of the CEREC process from start to finish. You can expect Dr. Sami to digitally design your CEREC crown right next to you as you relax and wait in your dental chair. While utilizing the software's many tools & programs, he will welcome any questions or curiosities you may have as you can openly observe the steps he takes to utilize this amazing technology to customize your new restoration from the comfort of your dental chair. Once the crown has been digitally designed and ready to be fabricated, you will also be invited to watch the milling procedure if you choose to do so.
---
Back to Our Services
---
Request Appointment
---
---
---
Call our office at 516-676-0250 or use the button below to request your appointment.
---