Whether it's been years since you've seen a dentist or you're just looking for a refreshing dental experience, you're welcome in our dental home. Enjoy a place where compassion replaces judgment, hope replaces fear, and a visit to the dentist is one of the best parts of your day.
Your first visit at Gold Coast Smiles is a special one. It isn't only an opportunity for us to get to know your smile, it is also an opportunity to get to know YOU, the individual. We value you as a whole person with unique needs and concerns, and we treat you that way– from the first phone call through every visit you have with us. We want your time with us to feel more like a visit with friends than a trip to a dental clinic.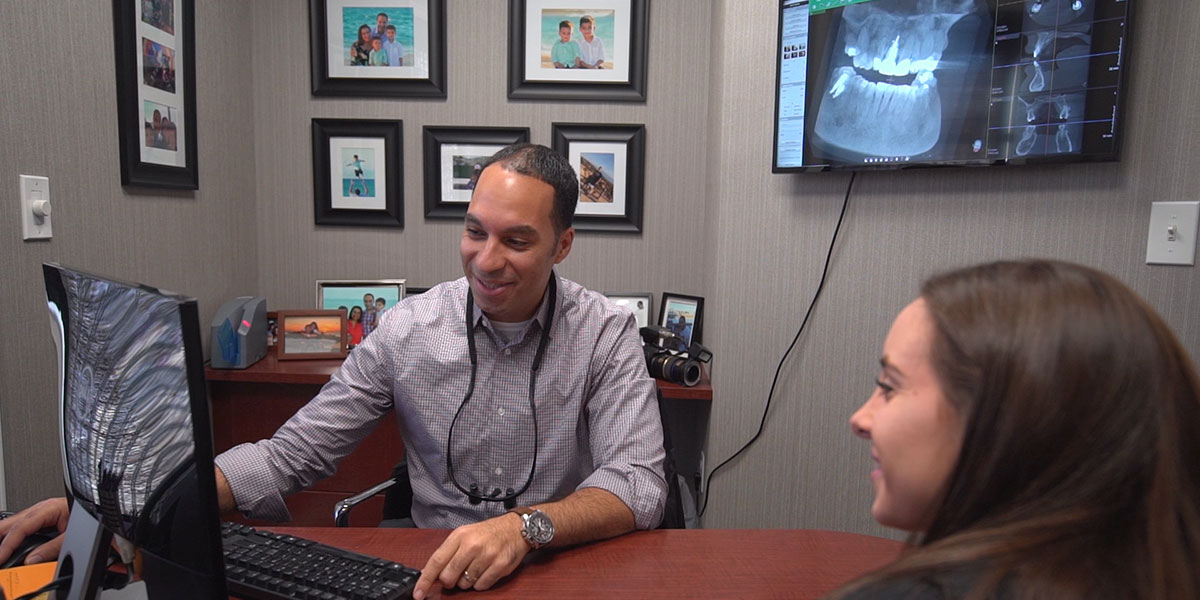 ---
The New Patient Experience
---
For our new patients, our journey together begins before you even step into our office.  When you call to schedule your appointment, we will take a little time to chat with you and gather a few pieces of information so that we can schedule just the right amount of time to tailor it to your needs.  We will also use this time to familiarize you on what you can expect on your first visit and we will patiently and gladly answer any questions you may have.  It's important for us to know that you are comfortable and well informed prior to your upcoming appointment.
Because we understand your time is valuable, you will also be given the option at this time to access our patient portal where you can fill out important forms such as your health history, relevant consents and other financial/insurance information from the comfort of your own home.  These forms will then be automatically uploaded into our secure system so they can be reviewed by Dr. Sami & the team prior to your initial visit.  This helps us to be aware of any special concerns you may have and to be prepared to accommodate your needs accordingly so you can spend less time at our office and can get back to any other responsibilities you may have in your life more quickly.  You will also receive immediate tailored access to email and/or text notifications customizable to your personal preferences on how you prefer to correspond with our office and receive updates when new appointments are scheduled.
If you prefer to e-sign our forms in person when you arrive, you will be kindly asked to plan to arrive 15 minutes prior to your scheduled appointment. Depending on your preference, iPads or conventional paper forms will be made available to you to fill out the forms at this time.
Attention to Detail
---
Once it is finally time for you to first walk into our office you will notice the difference right away. Our friendly & personable team will be here to greet you and show you around so you can familiarize yourself with our office.  While wait times are typically minimal, you can enjoy a refreshing cold beverage or a cup of gourmet coffee along with a small healthy snack from our beverage bar.  Complimentary WiFi, Tablet & phone charging stations are also available for your convenience.  You can use this time to relax, gather your thoughts and get any questions you may have for Dr. Sami in order before we start your comprehensive dental examination.
For Gold Coast Smile's founder, Dr. Andrew Sami, everyone and everyone's story is important. We want to know yours.  Your comprehensive evaluation will begin with a conversation with Dr. Sami.  It is important for him to take the time to understand your questions, interests and concerns and to familiarize himself with your overall health and past dental experiences. You'll first meet Dr. Sami in his personal office, an area separate from your treatment room, so you can be provided with a comfortable private atmosphere to share any concerns or questions you may have prior to your clinical examination. This is our opportunity to learn about you, the individual. Wherever you're coming from, we want to learn your unique history, needs and circumstances and welcome you to a dental experience that is comfortable, friendly, validating and focused on reaching your optimal health and meeting your individual goals and values as a patient.
Comprehensive Approach to Your Oral Health
---
Following your consultation with Dr. Sami, you will be escorted to your treatment room to undergo a comprehensive oral health evaluation that includes a thorough clinical exam, an oral cancer screening and a Periodontal (gum) examination.  We will also use the latest diagnostic technology, including a full set of digital x-rays, and if necessary a 3D Cone Beam scan of your teeth and jawbones to help us formulate an accurate diagnosis and precise treatment plan for you.  Dr. Sami will go over all your findings in detail and will utilize intra-oral video screening technology to capture high resolution video and still imagery of your mouth in real time so you are able to better visualize and understand conditions and recommendations made.  This allows us to have a more interactive discussion with you regarding your oral healthcare conditions and help enable you to better understand diagnoses, recommended options and make informed treatment decisions.
Once your comprehensive oral health evaluation has been completed, depending on the complexity of your needs, Dr. Sami will present you with a number of treatment options on how we can approach your care.  We offer all of our patients this opportunity to participate actively in creating a personalized treatment plan.  Your feedback and questions are always welcome and encouraged throughout this process as you are always considered an integral part of the decision making process.  When discussing your proposed treatment, we will talk about your concerns, priorities, and financial arrangements.  After learning more about your personal goals for your dental health, we will discuss relevant options and a timeline that fits your lifestyle and needs.  We won't ever pressure you into deciding, and we try to be as flexible as possible in planning the course of your treatment.  Ultimately, while keeping in mind that our expertise is crucial in guiding the structure of your care and assuring success, you always have the final say in how we proceed with your care.
Personalized Service
---
In addition to providing you with a comprehensive approach to your clinical care, our business team will also take a comprehensive approach to working personally with you to make the payment process easy and worry-free.  At Gold Coast Smiles, prior to the start of any treatment, you'll be given a clear and detailed breakdown of the costs involved with the treatment you've decided on.  If you have dental insurance, our business team will look into helping you maximize your dental insurance benefits as they relate to our office insurance policies and we will process and submit the paperwork on your behalf.  If necessary we will also present you with several financing options that can be tailored to fit your lifestyle in order to help you reach your goals.  We want you to feel confident about your dental care decisions before you schedule your next appointment with us.  And when it's finally time to schedule that next appointment, you will be leaving our office confident knowing you've made the right decision to be a part of the Gold Coast Smiles family.
If it's time for your regular check-up or you want some professional advice, contact our friendly team of experienced dental professionals to find out about the wide range of services we offer. We treat people of all ages with all types of dental issues, from preventive and restorative treatments helping you to maintain good oral health to cosmetic treatments helping you achieve the smile you want.
---
Back to Patient Resources
---
Request Appointment
---
---
---
Call our office at 516-676-0250 or use the button below to request your appointment.
---