Dental Bridges in Glen Cove, NY
Gold Coast smiles provides dental bridges to patients in Glen Cove, NY. Contact us at 516-676-0250 to learn more or schedule an appointment.
We strive to put together an ideal treatment plan that best serves  your individual needs and circumstances.  We realize that treatment should not be approached in a cookie cutter one size fits all fashion and certain options may be better suited for certain individuals based on their particular needs and circumstances.  For patients who have lost a tooth or multiple teeth, we are able to provide you with several options when it comes to tooth replacement.  Dental bridges are just one option among several others for replacing missing teeth.  Your other options include dental implant therapies or removable cosmetic dentures.  When you schedule a consultation with Gold Coast Smiles, we will review each of these options with you in detail, including benefits and disadvantages as well as costs involved, in order to find out which treatment best serves your individual needs.
Our office offers a range of dental services that can help restore a natural look, feel, and function to your mouth.  For patients who may not want to pursue treatment involving a removable prosthesis or cannot move forward with dental implant therapy, one such option, the zirconia bridge, provides a practical, natural-looking alternative to dentures.
---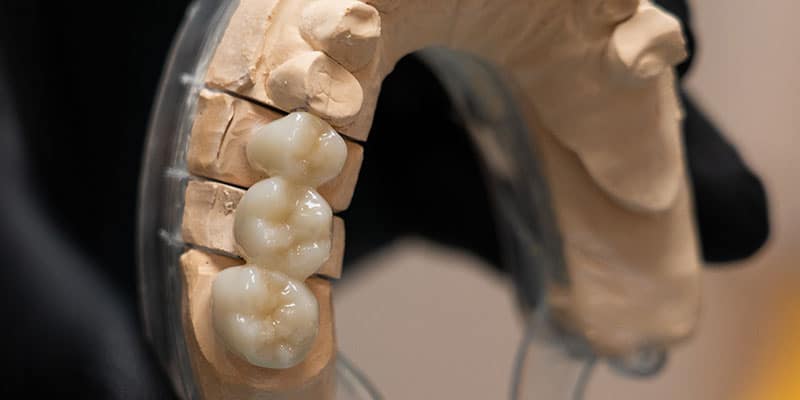 ---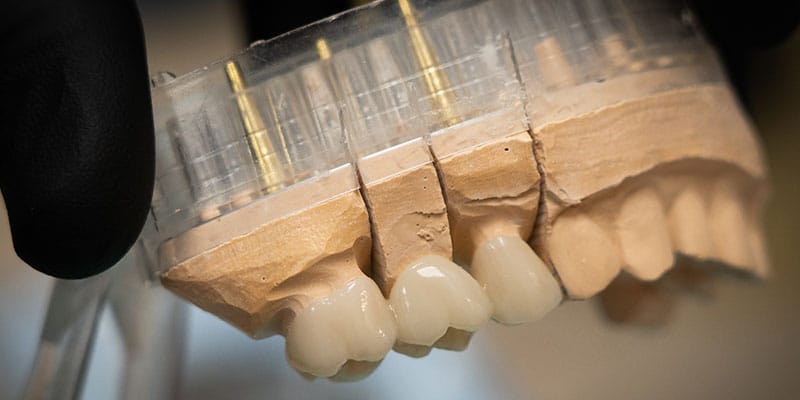 ---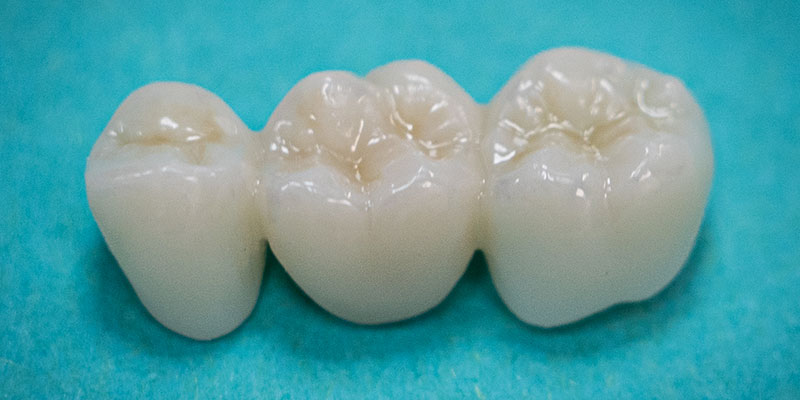 ---
What Are Zirconia Bridges?
---
Simply put, zirconia is a type of ceramic. Its tensile strength has earned it a place in the aerospace and other high-tech industries, gaining the nickname ceramic steel.  In addition to porcelain, we often also utilize zirconia in the fabrication of our crowns and bridges.  Zirconia offers us many advantages over conventional porcelain particularly under circumstances involving the need to repair broken down back teeth that are under high stress with crowns and bridges.  Unlike porcelain that involves stacking and firing different layers together to produce the final product, Zirconia crowns and bridges are milled from a single monolithic piece of ceramic.  This monolithic milling process results in zirconia being nearly indestructible, withstanding the most vigorous chewing and biting activities. In fact, zirconium is five times as strong as porcelain.  Zirconia also virtually eliminates the risk of allergic reactions because it is very biocompatible. In fact, doctors use very similar materials in certain joint replacements. And because it is so strong, zirconia can be milled to extremely thin tolerances, offering a precise fit with minimal risk of chipping or fracturing.
---
---
---
All before/after photos pictured here are actual cases of Dr. Sami's.
A  dental bridge consists of a unit of multiple dental crowns held together and are used to replace missing teeth or "bridge" the gap between healthy teeth. The two crowns on either end of the bridge are fixed over the top of the supporting teeth on either side of the gap.  Depending on both the number of teeth missing and number of healthy teeth available, a dental bridge can replace as minimal as one tooth to as much as an entire arch of teeth.
Conventional porcelain alone is not strong enough to be used for a bridge in the back of the mouth where chewing forces are greater or for fabricating of long span bridges that replace several missing teeth.  So bridges have traditionally been made from porcelain that was fused to a metal base. The result were restorations that often looked dull and lifeless because the underlying metal would create an opaque affect along with developing the telltale dark line at the gumline.  Modern dentistry has now provided us with zirconia ceramic bridges that are so strong that we have no further need for metal frameworks for any of our dental bridgework at Gold Coast Smiles regardless of size.  While our office still uses porcelain routinely in the fabrication of short span bridges when replacing missing anterior teeth that cannot be addressed with implants, zirconia bridges have now become a proven staple in the replacement of missing posterior teeth and long span bridges of any size when implants cannot be used.  The results are restorations that are strong, long lasting and incorporate the translucency, color variation and sparkle of real teeth.
---
Zirconia Bridges FAQ
---
What are the disadvantages to dental bridges?

While dental bridges serve as a sound treatment option and certainly have their place in modern dentistry, they do come with some drawbacks that we always educate our patients about before moving forward with treatment.  In addition to their many advantages, the following disadvantages of dental bridges should be considered:

The teeth on either side of the missing tooth or teeth must be prepared for a restoration. These may be otherwise healthy teeth that do not require any sort of treatment.
Hygiene can be more difficult with a bridge because all of the teeth underneath the bridge are connected making flossing and other oral hygiene habits more difficult for some patients.
Because all of the teeth coexist under the same bridge, should one tooth have a major problem, the entire bridge will be affected and possibly even replaced entirely regardless of the health of the other teeth.
Long span fixed bridges involving multiple teeth can cost several times more than replacing a single missing tooth.

When discussing dental bridges as a possible treatment option with patients, these disadvantages are explained and strongly considered in the decision-making process.  Often times when possible, we advocate the use of dental implants in the replacement of missing teeth considering the many advantages they possess over all other tooth replacement options.  We realize this may not be possible for everyone, however, particularly if there isn't an adequate amount of bone available for the placement of implants.  In these circumstances we will develop the best treatment plan possible for you with the least disadvantages involved.

Are there any limitations with Zirconia?

Zirconia has so many advantages that you may be wondering why don't we just use this material all the time for all of our crowns and bridges.  While zirconia possess a number of outstanding functional features, its limitation lies in the fact that it has a limited range of cosmetic usage when compared to porcelain.  Compared to porcelain, zirconia is significantly stronger but does not possess the high range of luster and translucency porcelain can give us.  We typically favor porcelain over zirconia when placing crowns and bridges on anterior teeth so we can accurately reproduce the natural luster and features of your smile.  Certain circumstances such as multiple missing front teeth prohibit us from using porcelain however.  Under these conditions, we will first make the crown or bridge out of zirconia to utilize its superb durability and strength.  To correct for its esthetic limitations, the zirconia restoration is modified by removing a thin layer from the front of the crown.  Porcelain is then layered and placed onto the front of the tooth.  This gives our ceramist the ability to produce depth of color as well as subtle highlights and variations through the placement of the more translucent porcelain.  The strength and precise fit of the zirconia base and the beauty of the porcelain make this a very appealing restoration and a solution for complex cosmetic cases and full mouth rehabilitations.

How do I care for my dental bridge?

With dental bridges particular attention must be paid to oral hygiene.  Decay can still occur on teeth underneath the bridge and it is important to brush at least twice a day.  Flossing with any type of fixed bridge will be different than with natural teeth that are separated from one another.  Instead of flossing between teeth you'll need to thread the floss between the bridge and the gums.  Although this can be a bit challenging at first, it can be done with the help of floss threader, a device with a loop on one end and a long, thin plastic point on the other-similar to a sewing needle.

There are other Hygiene options available to you:  Prefabricated floss with stiffened ends that thread through the bridge-gum space that you can use very easily.  You can also purchase an interproximal brush that resembles a pipe cleaner with thin plastic bristles to access the space and brush between the crowns.

Some patients also find a waterpik, a handheld device that sprays a pressurized stream of water to loosen and flush away plaque, to be an effective way of keeping this important area clean. It is worth noting however, waterpiks generally aren't as effective removing dental plaque as floss or interproximal brushes and should be used as adjuncts to them and not their replacements.

Whatever flossing method you choose, the important thing is to choose one and practice it every day
---
---
Request Appointment
---
---
---
Call our office at 516-676-0250 or use the button below to request your appointment.
---